RxSafe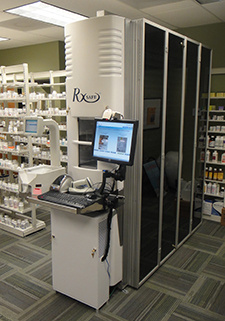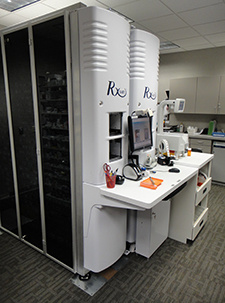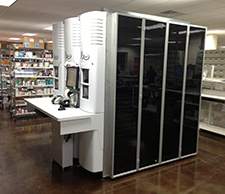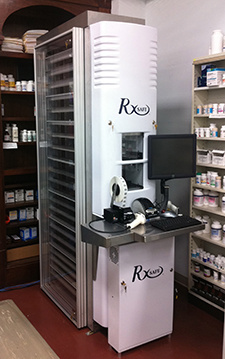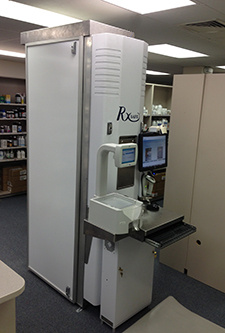 Increase your profitability and productivity with secure, automated robotic storage & retrieval for retail pharmacies
RxSafe is the leader in automated, high density robotic storage and retrieval of stock bottles. Our products represent an evolutionary leap in pharmacy automation technology. Rather than simply automating fast-moving drugs, we provide secure robotic storage and retrieval for your entire pharmacy inventory.
How do we accomplish this? Stock bottles are stored behind locked doors and driven by a patented robot driven by proprietary software that will interface with your existing PMS. This allows you to:
Increase Profitability
RxSafe tracks your inventory in real-time, so you can know what and when to reorder, so you won't be opening a second bottle, and so you know when to return drugs for credit. All this means less money sitting on your shelf, and more money to your bottom line.
Increase Productivity
Pharmacy staff waste untold hours on unnecessary and repetitive tasks like walking back and forth putting inventory away, filling canisters, checking if a particular drug is available for a customer, or counting CIIs. All of these tasks are handled effectively and efficiently by RxSafe, allowing you and your staff to focus on improving patient outcomes.
And, when you're busy, the RxSafe really shines. Users report that a single operator can routinely fill up to 100 scripts per hour accurately.
Decrease Loss
While there are all sorts of reasons that inventory 'disappears', none of those reasons are good. Employee theft, miscounts from the supplier, stocking errors, or the absolute worst case—a filling error. RxSafe knows what should be in stock, and ensures that it is.
Decrease Space Required for Storage
RxSafe allows you to choose the right size solution for your pharmacy. Up to 5,400 native prescription containers fit in less than 40 square feet of space, or as few as 900 stock bottles in 10 square feet. If your space is tight, or there's better use for the space, RxSafe is the solution.
Join the other independents, hospitals, clinics, military and institutional pharmacies that have selected RxSafe in the quest for a better pharmacy.