Health Care Logistics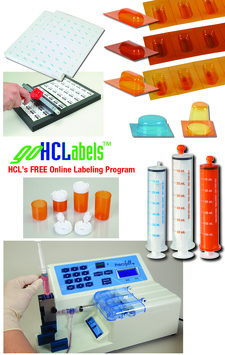 Unit Dose
Easily enhance your small volume medication packaging routine with the unmatched selection of liquid and solid unit dose products from Health Care Logistics. Find a variety of kits and accessories along with labels and printers to satisfy all your packaging needs in one spot at HCL!
Solid Unit Dose Packaging
Enjoy fast, hassle-free drug packaging with blisters, labels, sealing trays and accessories. We offer multiple sizes and styles of solid unit dose packaging options: USP Class A (1-year), USP Class B (6-month) & USP Class D (30-day).
Liquid Unit Dose Packaging
Shop HCL's extensive inventory of liquid unit dose packaging products to find unit dose vials & caps, oral dispensers, labels, seals and tamper evident tapes and caps to meet all your liquid unit dose packaging requirements.
To visit HCL online click the link below, or call to speak to a member of our Customer Service team from 8:00 am to 8:00 pm EST Monday through Friday