IV / Infusion | Technology, Supplies, Services Booth #3854

IV / Infusion | Technology, Supplies, Services Booth #3857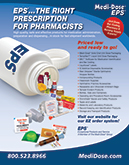 Medi-Dose
High quality, safe, and effective products for medication administration, preparation and dispensing .
Read More

Market Buzz
Aesynt Acquires Health Robotics
Aesynt , a leading provider of integrated pharmacy automation solutions for hospitals and health systems, announced it has completed the acquisition of Health Robotics, the leading global supplier of automated technology for intravenous (IV) medication preparation, compounding and dispensing. The acquisition of the Italy-based company signifies Aesynt's strong, continued growth following its own acquisition by Francisco Partners in 2013, as the move will increase Aesynt's global reach and solidify its position as the only company on the market able to provide a complete solution for pharmacy automation, regardless of medication type or distribution model.
Baxter to Acquire Privately Held Baxa Corporation for $380 Million