eMAR / Bedside Barcoding Systems Booth #2510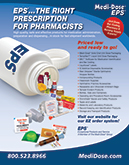 Medi-Dose
High quality, safe, and effective products for medication administration, preparation and dispensing .
Read More

eMAR / Bedside Barcoding Systems
Medi Dose
The Medi-Dose® Group, known for its innovative solid and liquid oral unit dose packaging systems, has always had deep roots---family roots. This is not surprising since Medi-Dose began as a small family business. Medi-Dose was founded in 1971 when Milton Braverman, a former pharmaceutical company Territory Manager, formed his own company.
Talyst
Just as our company has helped pharmacies transform their organizations, Integrated Healthcare Systems has transformed into Talyst. A shortened form of the word catalyst, our name addresses our ability to help pharmacies affect change, improve safety, and streamline workflow across the healthcare delivery system: affordably, reliably, intelligently.