The Comprehensive Medication Counseling Database (CMCD) ™ by Drug Knowledge LLC
Drug Knowledge's databases are written and designed for the patient; databases can be used during a counseling session with the patient or reviewed at home by the patient.
Read More

Winter 2016 Edition | Community - Specialty - LTC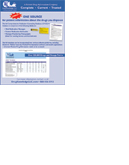 Drug Knowledge, LLC
Finally, once source for patient information about the drugs you dispense
Read More

Clinical Pharmacy Reference Data
What are clinical databases/drug references?
In pharmacy, "evidence-based medicine" is the standard of healthcare delivery. Due to the reduction of medication errors and decreased costs by using EBM, pharmacists rely on clinical databases and drug references to provide the best evidence in making therapy decisions for their patients. These databases integrate drug data and clinical data to provide clinicians with a guide for their practice.
Specifically, what is a clinical database?
Clinical databases are specific, in that they store clinical data derived at the point of care, in a medical facility, hospital, clinic or practice, or as part of a clinical trial. Clinical data falls into one of six categories: electronic health records, administrative data, claims data, disease registries, health surveys, and clinical trials data. This data is managed in databases, per software platforms, and is utilized in many ways. Clinical databases assist clinicians in providing a guide for their therapy decisions.
What is a drug reference?
Drug references are databases storing drug data and drug product information. Drug references, for example Micromedex, provide the pharmacist with the information on drug products and the evidence to make therapeutic decisions. The information presented includes: drug class, their indication (what they are used for), interactions with other drugs/food/disease state, and the best practice for treatment recommendations. Drug references provide a user-friendly reference for the pharmacist and physician to understand and assist in providing the best care for their patients. Drug reference can specialize in certain pharmacy areas providing information on compounding, stability, therapeutic interchange, pediatric, and other population specific information needed to guide pharmacy practice.
Why are clinical databases and drug references important to healthcare providers?
Clinical databases and drug references are materials for healthcare providers to rely on when providing the best therapeutic decisions for their patients. By storing clinical and drug data, pharmacists and healthcare providers, in general, have evidence based medicine to back up their practice and provide the patient with optimal health outcomes based on previous therapeutic results.