Parata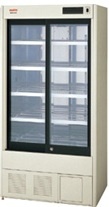 SANYO's +4°C MPR Series offers a complete and integrated solution for the increased requirements of strict and exact storage temperatures for pharmaceuticals, medicines, vaccines and other temperature sensitive biologicals. The slim front-to-back design and optional sliding shelves allows for an ergonomic easy-reach retrieval of your product.
Many advantages of our pharmaceutical refrigerators include:
Storage
Uniform storage is unaffected by ambient temperature. An electronic sensor accurately monitors chamber temperature and feeds the information to the microprocessor for precise control at the preset temperature.
Superior Uniformity
Plenums Direct Airflow - SANYO's plenum design features uniform cold air flow distribution throughout the chamber to ensure temperature uniformity—essential for validated storage requirements.
Compressor
Remarkable cooling efficiency - A highly efficient hermetic compressor, specially designed and developed by SANYO, is utilized to provide powerful and rapid cooling to maintain proper temperature level and superior uniformity.
Defrost System
SANYO's Cycle Defrost System - Defrosting is performed automatically during compressor "off" cycles by sensing frost levels. This way defrosting is performed only when required, further protecting the contents against unnecessary temperature rise.
Design
Ergonomic Design - The ergonomic design of the MPR series refrigerators provides a clear view of stored items through the large framed windows. The slim profile allows for easy reach retrieval of your products.
Safety
Cabinet Construction - View window door design with protective film to prevent shattered glass from scattering on to the floor. Key locked doors.
Environmentally Friendly
SANYO is CFC-Free - SANYO refrigerators feature commercially available CFC-free, HFC refrigerants and CFC-free insulation.