ScriptPro Robotics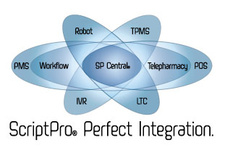 SP Central Pharmacy Management Systems
SP Central Pharmacy Management System (PMS) uses ScriptPro's SP Central Workflow System as its operating platform, incorporating robotics, workflow, and pharmacy management within a unified architecture. We call this Perfect Integration—the complete solution for your pharmacy, engineered and supported by ScriptPro.
This highly reliable platform means minimal downtime and maximum efficiency for your pharmacy. PMS is configurable to address your specific needs today and scalable to support your growth tomorrow.
For a second year in a row, customers ranked ScriptPro's SP Central PMS #1 in the category of Software Solutions-Pharmacy - Outpatient (Retail) in the "2012 Best in KLAS Awards: Software & Services" report.
Additional Automation Products from ScriptPro:
Robotic Prescription Dispensing Systems
SP Central Workflow
Telepharmacy for communities
Pharmacy Services Portal
ScriptPro Inventory Management
Robotic Prescription Dispensing:

CRS (Compact Robotic System)
CRS 150
CRS 225
SP 200
SP 100
SP 50