Virtual Pharmacy Trade Show
Pharmacy's Leading Product & Service Providers
Legisym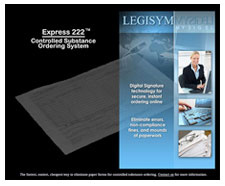 Who is Legisym
Express222™ is the simplest, most cost-effective answer for eliminating the paper Form 222 and ensuring DEA compliance. This Web-based Controlled Substance Ordering System (CSOS) delivers all the benefits of electronic controlled substance ordering and fulfillment with some surprising differences.
The Express222™ solution provides critical CSOS functionality, delivering all the benefits of electronic 222 ordering. Its Web-based design for order processing provides the end-user a simple and familiar experience. It automatically scales to meet the demands of the occasional CII buyer and the frequent multiple-order buyer. Additionally, this patent pending design offers tremendous savings by eliminating the need for costly installation of hardware and software.
See how Express222™ can remove the paper Form 222 across the industry for:
Manufacturers
Suppliers
Wholesalers
Re-packagers
Reverse Distributors
Hospital Transfers
Testing Laboratories
Compounders and Others.