Manchac Technologies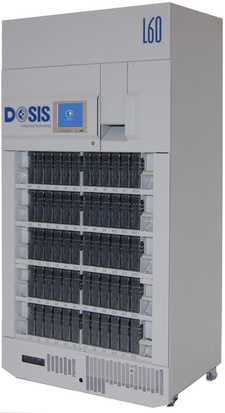 The DOSIS L60 Meets Your Short-Cycle Needs
Did you know that an L60 can produce 60 fully ready (filled, sealed, and patient labeled) seven-day/count cards at 45 cards per hour? Yes, the same machine for 30/31 Day single medication blister cards is your answer to Short-Cycle Filling Staying with the standard blister card that you are utilizing today, means you can meet your needs without turning everyone's world upside down. The blister cards that are produced by the L60 are ready for the traditional secondary check by a pharmacist in your pharmacy; no rubber banding or boxing and labeling again! The L60 is truly a method for extending your staff to reach your short-cycle demands.
DOSIS® L60 is a robotic solution for completely automating prescription filling, sealing, and patient labeling of 30 or 31-Day single medication blister cards (a.k.a. bingo-cards) in a physically compact enclosure. This solution offers unbounded value to pharmacies in need of higher prescription throughput without extra staffing. DOSIS is the most cost effective automated prescription packaging of blister cards in the market. Blister cards, which typically hold a single medication 30-day supply, are preferred for use in Long Term Care facilities due to their ease of handling, inspecting, and administering to patients. DOSIS has the capacity to run continuously for up to four hours unattended before restocking empty blisters.
Don't let the competition fool you.
Dispensing seven pills into a 30/31 day blister card is not wasteful. Maintaining the same format makes everyone's lives simpler. Blister card cost has proven over the last few decades to be the most cost effective solution to deliver medications in the LTC marketplace. After all, can you glance at a roll or a box of unit dose pouches and validate that the correct medication is in each pouch and the count is correct? The manufacturers of the blister cards have optimized their business to be the most cost effective on the 30/31 day blister card production. Even going to a seven or a 14 day card will not reduce the cost of the 30/31 day blister card cost by half! So the best thing to do is to continue utilizing your existing material and just increasing your volumes for purchasing additional 30/31 day blister card materials.