AdvanceNet Health Solutions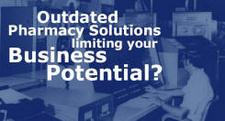 AdvanceNet Health Solutions continues to dominate the prescription dispensing marketplace with its full featured, enterprise, open source pharmacy management software, ePostRx™.
ePostRx™ currently supports the following business models:
High Volume Mail Order
Durable Medical Equipment (DME)
Specialty Pharmacy
Chain Retail
Veterinary
Hospice
All on the same single code base! The system also supports the automatic routing of prescriptions for clients with multiple facilities.
All our open source ePostRx products and services are built from the ground up using the latest web enterprise technologies and open source projects. Because we employ a three-tier architecture model, our solutions can be configured and scaled to meet the enterprise needs of any client network. Utilizing an open architecture philosophy, the system will seamlessly integrate into your current IT landscape. Published web services and API's are available through the View Supporting Materials Link below.
ePostRx™ also offers an integrated e-prescribed solution to our enterprise pharmacy management software, ePostRx™. Fully certified on SureScript 10.6, the electronic prescribing solution includes automated Prescriber Download functionality. The current solution automates the receipt of the electronic prescription in the workflow manager, incorporating matching logic for the patient, to streamline dispensing, with minimal user interaction.
Outbound physician contact incorporates the data in the Prescriber download directory to make the determination if the physician is eligible for electronic contact. When the prescriber is not eligible for electronic contact, the system will default to fax communications.
At AdvanceNet Health Solutions (ANSHealth), we're dedicated to being the world's premier e-Pharmacy technology company. Our ePostRx product enables pharmacies to facilitate higher fulfillment volumes, enhance patient care and increase profitability by supporting multiple business models, including Electronic Scripts, DME dispensing, Specialty Pharmacy, Mail-Order and Central Fill. ePostRx™ is the healthcare industry's first and only open source, enterprise pharmacy solution licensed under GNU General Public License (GPL). So if your business requires:
Prescription Fulfillment/Management Software
ePrescribing /Management Software
Pharmacy Operations & Technology Consulting
Open source technology consulting and Project Development.
Then contact ANSHealth and get involved with the ePostRx community today!