READINESS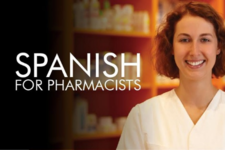 Spanish Training for Pharmacists
About the Program:
Developing Spanish counseling skills will help increase patient compliance and build customer loyalty while setting your pharmacy's level of customer service apart from competitors. Spanish for Pharmacists is a comprehensive online course enabling pharmacists and pharmacy technicians to learn the basics of Spanish for effective patient counseling. Spanish for Pharmacists was written by practicing pharmacists specifically for the retail pharmacy community. Spanish for Pharmacists contains more than 250 pharmacy-specific phrases and 1000 pharmacy-relevant vocabulary words.
Program Objectives:
Upon completion of this program, the pharmacist or pharmacy technician should be able to:
Translate basic questions regarding prescription and OTC medications from Spanish into English.
Ask questions pertaining to a patient's medical condition in Spanish.
Explain side effects of prescription and OTC medication in Spanish.
Explain drug dosage regimens in Spanish.
Translate the Spanish alphabet.
Discuss how, where, and when to use medications in Spanish.
Translate body parts and organs in Spanish.
Translate medical symptom terminology from Spanish to English.
Translate days of the week, months of the year, and numbers in Spanish.
Demonstrate the ability to tell time and determine dates in Spanish.
Convey the location of products, items, and parts of the store in Spanish.
Translate certain foods and store products in Spanish.
Demonstrate proper pronunciation of Spanish letters and words.
Translate key Spanish question words.
Translate key sentences used in prescription processing and counseling.
Testimonials:
The Spanish for Pharmacists program is an excellent tool for providing customer service and patient counseling to the growing niche market of our Hispanic customers. It is practical, useful and simple."
- David Gagnon R.Ph.
"This program is exactly what I have been looking for! I wanted a program to help teach me the useful "pharmacy Spanish" needed to help our customers but I didn't want to waste my time learning irrelevant information. I highly recommend it to anyone who would like to effectively counsel their Spanish speaking customers."
- Sheryl ShemTov B.S. M.S. CPhT
"I think the Spanish for Pharmacists program is fantastic. It allows many technicians to learn a unique skill that can be applied in many pharmacies. Whenever I train in a particular store in which I feel the program may be of use, I let the staff know about it. I especially like how the program is straight forward and reader friendly."
- Michelle Ellinwood CPhT