Health Care Logistics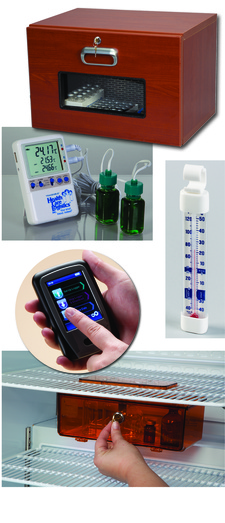 Temperature Monitoring
Find practical, proven solutions for Temperature Monitoring and management.
From medical-grade data loggers, temperature recorders and thermometers to portable refrigerators, medication warmers and more, HCL offers virtually everything imaginable to protect and secure temperature-sensitive medications throughout your facility.
Enjoy wireless convenience to recorded temperature information with DataPad, a handheld touch screen device that allows users of EL-USB data loggers to download data and view results on the spot. This convenient temperature monitoring tool eliminates the need to remove the logger from the refrigerator or freezer and take it to a computer to retrieve information. It also allows the full setup of loggers and configuration of units directly from the field.
Refrigerator Locking Boxes keep supplies safe and secure and enable users to control access to temperature sensitive drugs while keeping them stored at a regulated temperature. Achieve an additional layer of protection for refrigerated meds with Lockable Thermostat Covers that help control thermostat settings so only authorized personnel have access.
Visit our site to learn more about our full inventory of Temperature Monitoring solutions. If you donít find what youíre looking for, our talented team of product experts is ready to help!