Primex Wireless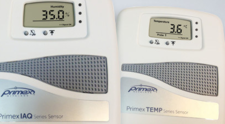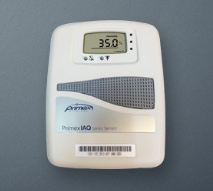 Monitor the storage temperature of sensitive materials and medications from anywhere without the need for servers or software.
When pharmacies need to protect sensitive medications and vaccines, they turn to Primex Wireless. Our intelligent temperature and indoor-air-quality (IAQ) sensors make it easy to continuously monitor pharmacy assets with complete CDC compliance while ensuring the quality and safety for patients.
Temperature and IAQ sensors set-up effortlessly and link through your existing Wi-Fi network to form a complete, continuous monitoring solution that automatically gathers all critical temperature, humidity and differential pressure information. Once collected, data transmits from the sensors back to a central software hub per your custom schedule.
The proactive, intelligent network formed by the sensors and software is ideal for protecting the valuable assets of pharmacies of all sizes, from small, community pharmacies to the largest national chains. With a dedicated support specialist to help you configure your system, and durable devices built for years in the field, you can rest assured your Primex system will be on-guard 24/7/365.
Protect patients, staff and sensitive resources with a monitoring and synchronized-time solution that easily pairs with your existing wireless network.
Healthcare organizations of all types and sizes consistently choose Primex Wireless because our technology, service and support makes it drastically easier to maintain a safe, comfortable environment. Your web-based Primex system will automate manual monitoring activities, alert you when conditions are out of range and provide documentation of conditions throughout every building, whether on a single campus, in a satellite clinic or even in another state. Key team members won't get bogged down with data logging, maintenance and book-keeping; saving you and your staff hundreds of man hours each month.