Virtual Pharmacy Trade Show
Pharmacy's Leading Product & Service Providers
AdvanceNet Health Solutions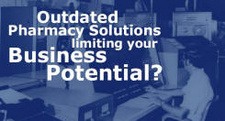 At AdvanceNet Health Solutions (ANSHealth), we're dedicated to being the world's premier ePharmacy technology company. Our ePostRx product enables pharmacies to facilitate higher fulfillment volumes, enhance patient care and increase profitably by supporting multiple business models, including Electronic Scripts, Retail, Chain Retail, Mail-Order and Central Fill. Now ePostRx is the healthcare industry's first and only open source, enterprise pharmacy solution licensed under GNU General Public License (GPL). So if your business requires:
Prescription Fulfillment/Management Software
ePrescribing Translation/Management Software
Pharmacy Operations & Technology Consulting
Open source technology consulting and Project Development.
Then contact ANSHealth and get involved with the ePostRx community today!