intimus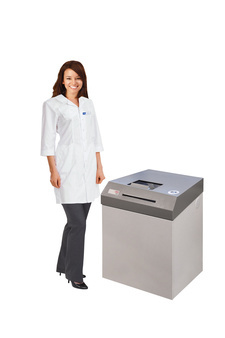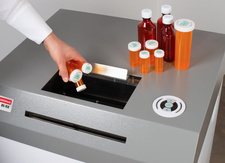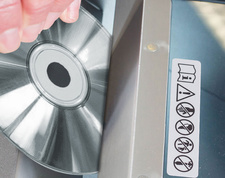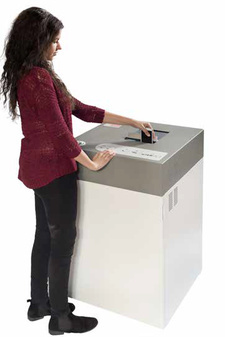 On-site, HIPAA Compliant Information Destruction Solution for pharmacies

HIPAA requires that covered entities like pharmacies and health facilities apply appropriate safeguards to protect the privacy of Protected Health Information (PHI), in any form. With shredders installed in more than 5,000 pharmacies nationwide, intimus is the leader in this field.
Intimus 85 RX
The Intimus 85 RX multipurpose shredder is the best way for pharmacies, nursing homes, medical practices and other medical facilities to ensure HIPAA Compliance. And because the 85 RX is an in-house solution, the risk of data or identity theft from outsourcing destruction to a third party is eliminated.
A commercial grade, continuous-duty, easy-to-use shredder, the 85 RX has dual feed openings to handle paper, prescription pill bottles, and a wide range of other items that contain sensitive patient information.
Attractive styling and quiet operation allow it to be used in any environment. Its compact size fits under standard pharmacy counters making it easily accessible, without taking up valuable floor space.
A built-in automatic oiler keeps the cutting head lubricated and helps to clear residue from adhesive labels and sticky liquids like cough syrup.

Dual feed slots for paper and plastic pill bottles/bulky items
Destroys items to a final particle size of only 3.6 x 43 mm
Accepts pill bottles up to 16 oz. - including caps
Destroy up to 200 bottles per hour
Auto reverse for easy clearing of jams
i-Control smart switch with auto start/stop and illuminated indicators for easy operation
Compact size, fits under counter - ideal for space restricted pharmacies and offices
Automatic oiler for improved cutting head performance - clears adhesives and other residue
Quiet operation - 63 dBA - will not interfere with confidential patient consultations
Plugs into standard 120V wall outlet
Sealed dust-free durable wooden cabinet
Mounted on rollers for easy relocation
Multimedia Destruction Solutions
Confidential data resides on an ever-increasing list of media. To meet the security needs of today and into the future Intimus offers the FlashEx Multimedia Destroying. Attractive styling, a small footprint and quiet operation make this powerful device perfect for use in any environment. The FlashEx is the fast, safe effective way to destroy.
Solid State Hard Drives
Flash Drives
Compact Flash Cards
Optical Media
Cell Phones
Paper Destruction to NSA Levels
For dedicated paper destruction, no one offers more solutions than Intimus. With feed rates from just a few sheets per pass to up to 500, and particle sizes from cross-cut down to NSA mandated 1mm x 5mm particles there's an Intimus paper destruction solution for every need.