Retail Designs Inc.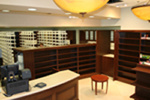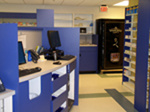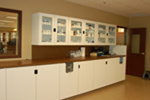 Our specialty is increasing your productivity and profits through the design and installation of modern pharmacy equipment.
History
Retail Designs was founded in January 1975 and is located in Brentwood, TN. We have designed and installed over 2400 pharmacies in 27 states ranging from downtown Manhattan to the rural hills of Eastern Kentucky. We have earned the loyalty of pharmacists throughout America and we want to earn your loyalty.
Independent pharmacies are our focus. Our scope of work also includes hospitals, medical clinics and physician office buildings. Finally, we have designed/installed industrial pharmacies for BMW, Eastman Kodak, Tyson Chicken and Nissan. WE ARE READY TO SERVE YOU!
Design & Color
We design the pharmacy based totally on the uniqueness of your operation. The equipment is ultra functional. We listen to you and provide options for your equipment needs. Are you using automated dispensing? Do you need additional/larger work stations, DME/Diabetic areas? Is your consultation area satisfactory to your patients? We design a pharmacy that prepares you for the future. Also, Retail Designs routinely works with architects and other professionals involved with your project.
We design the following:

Pharmacies, including DME, OTC, gift departments (hospital gift shops)
Compounding rooms
Clean rooms
Storage areas
The color of your pharmacy subconsciously affects the customer – make sure it is positive! We offer the largest choice of colors available on the market. You choose from hundreds of variations, shades and tones.
Installation
The experience of our installers ranges from 10-20 years. You deserve to have your equipment installed correctly and at your convenience. Also, our installation costs are incredibly reasonable. We do not "mark-up" our installation to compensate for giving you a competitive price for your equipment.
Things You Should Keep in Mind
Modular equipment/shelving custom designed for your operation
Design staff has combined experience in excess of 45 years
Your choice of colors and equipment options
Quick, easy installation
All backed by more than 45+ years in business
We are committed to exceeding your expectations