QS 1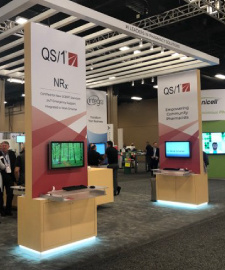 NRx®
The Complete and Intuitive Pharmacy Management System
Complete and Flexible Pharmacy Management
QS/1®ís NRx is designed to meet your pharmacy-specific needs. Process new prescriptions and refills quickly with minimal keystrokes or mouse clicks.
InstantFill® automatically queues IVR and web refills and prints labels. With Pharmacy at a Glance, monitor critical areas from any workstation throughout the day. Health-Minderô can be used to track adherence and compliance issues to produce better outcomes.
Enhance Your Business
Capitalize on programs, such as 340B, specialty medications, immunizations, nursing home/facility management and Medication Therapy Management (MTM). As your needs evolve, add capabilities such as:
Workflow
Will Call Bin Management
Accounts Receivable
Document Imaging
CoverMyMeds® Prior Authorization
Eligibility Checking
Electronic Prescriber Updates
NRx fully integrates with other QS/1 systems and services, including Point-of-Sale, SystemOne® for HME, IVR, Web Refill Services and Multi-Site Management (MSMô).