Virtual Pharmacy Trade Show
Pharmacy's Leading Product & Service Providers
Guaranteed Returns GRx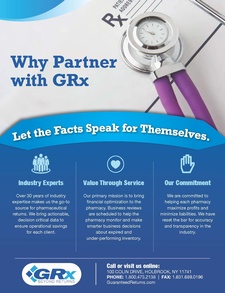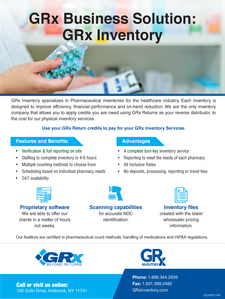 REDEFINING THE RETURNS INDUSTRY
Three decades in the Reverse Distribution Industry makes Guaranteed Returns® (GRx) the go-to-source for Pharmaceutical Returns.
GRx is a solutions-based business with the ability to meet all pharmaceutical returns needs. GRx ensures healthcare facilities make smarter decisions about expired and under-performing inventory using decision-critical advanced analytics.
Why Partner with GRx
Industry Experts – We bring actionable, decision-critical data to ensure operational savings.
Value Through Service – Our focus is bringing financial optimization to the pharmacy.
Analytics – Joint Business Reviews help the pharmacy make smarter decisions about expired inventory.
Commitment – We have reset the bar for accuracy and transparency in the returns industry.
The value of doing business with GRx far exceeds the industry standard. GRx offers a full suite of comprehensive business solutions and advanced data intelligence for pharmacy customers.