Medi Dose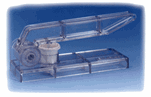 The Modern Way to Crush Meds!
EPS Tablet Crushers have been designed to conveniently and effectively crush medication for patients who cannot or won't swallow tablets. Our deluxe Medi-Crush units are manufactured from shatter-proof, lightweight plastic while our Heavy Duty Metal Tablet Crushers are constructed from die-cast stainless steel. Our Heavy Duty Plastic Crushers are available in 4 colors – all with durable stainless steel fittings. All EPS crushers use ¾ ounce crush cups to eliminate cross contamination.
Heavy Duty Metal Crushers:
A convenient, modern way to crush meds! Heavily chromed die-cast components with stainless steel fitting.
Heavy Duty Plastic Crushers:
A convenient, modern way to crush meds! Made of rugged plastic with stainless steel fittings, PC109 is available in your choice of 4 decor complimenting colors; BLUE, BERRY, TEAL, or BLACK!
Economical Medi-Crushers:
Many patients cannot or will not swallow pills or tablets. Medi-Crush saves time because it is easy to use. Made of durable shatterproof plastic yet inexpensive enough to put one at each nursing station.
The Medi-Dose® Group, known for its innovative solid and liquid oral unit dose packaging systems, has always had deep roots---family roots. This is not surprising since Medi-Dose began as a small family business. Medi-Dose was founded in 1971 when Milton Braverman, a former pharmaceutical company Territory Manager, formed his own company.